It's been a few months since I've joined up for the Monthly goals party, but I wanted to get in on the party this month.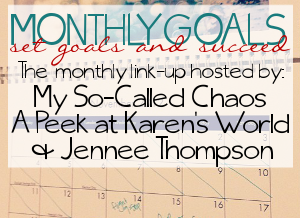 Maybe it's because June started on a Sunday and lined up with the first of the week or made it's just that we have some big projects going on this month, but June felt like a fresh start and a good time to take some assessment of goals.
Here are my goals for the month of June:
Work with the Mister to complete at least 90 percent of our living and dining room remodel. (Check out our first progress report.)
Do some sort of movement/exercise everyday....some of this will include the physical labor that comes with a home project.
Get back to running
Finish up all reading for my leadership course and graduate
Order new calendars and structure more effective time management for work
Update my notebook for jujitsu; discuss with my sensei what is needed to complete next promotion.
Get to work on that training to complete promotion by my birthday in August
Enjoy my vacation
Never miss a blog post. Sign up for email subscription to get a daily email with everything that's happening at High-Heeled Love. Don't miss out! Sign up here.
Subscribe to High-Heeled Love by Email