First, a huge
THANK YOU
to everyone who voted for High-Heeled Love in the
My So-Called Chaos Best of Blog Awards
. I was absolutely thrilled to see in Miss Angie's announcement that the blog has won the
Facebook Fraulein
award.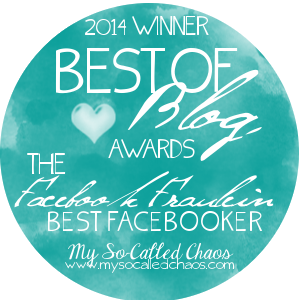 Second, please go love on my partner for the
Mug o' Comfort swap
, Mellissa from
A Fit and Spicy Life
. Girlfriend share recipes and workout ideas, and she reviews wine on Wednesdays! Sounds like my kind of blog friend.
Never miss a blog post. Sign up for email subscription to get a daily email with everything that's happening at High-Heeled Love. Don't miss out! Sign up here.
Subscribe to High-Heeled Love by Email