I bet since it's kickoff day for the Gamecocks, you though I was going to talk about football. Not so much.
So, August is my birthday months, but it marks another milestone in my life than just candles on the cake. Two years ago when I turned thirty, I also made the decision to start training jujitsu and asked the Mister to get me a gi for my birthday gift.
And starting on September 1, 2011, I began training at the dojo where the Mister has been training for the past 12 years. In October last year, I received my first promotion to blue belt. I had a personal goal to get my next belt by my birthday, and the first week of August I took my green belt exam and passed.
The initial reason for training was that I needed to be doing something to stay physically active. My job involves flying a desk so I sit entirely too much. And while exercise remains a primary motivation, I have found other reasons that I love the art.
1. I've built some fantastic relationships with jujitsikas (yes, it's a word) around the country. We have friends from Boston to Buffalo to Chicago to Salt Lake City to Los Angeles to Hawaii who would be thrilled to have us visit and train with them. We call it "ohana," the Hawaiian word for family.
Our friend Faye will be flying in from Hawaii this fall for our dojo's clinic and staying with us.
2. I am stronger. I am amazed at the physical ability that I have now that I didn't two years ago. Last fall, the Mister and I helped a friend move in to her new house, and we were the furniture movers. My grip strength is so much better. Heavy boxes don't phase me. This is a serious confidence booster.
I joke that I'm married to He-Man, but I am finding myself stronger everyday.
3. Free massage! Our style is one of the few arts that still teaches a healing art alongside the martial; in our case, think deep-tissue restorative healing. The Mister has taken the healing class and owns a table, and there are other students taking the curriculum right now, which means they need willing bodies to work on. On a serious note, it's great to know that if I should have an injury, there's almost alway someone right there to deal with it, which means much less recovery time.
Friend and jujitsika Doug is one of the most knowledgeable healers I know.
4. I am slimmer and fitter. Now I'd love to lose a few pounds, but my scale still says 165 pounds, which is what it said two years ago. But that doesn't discourage me. I have muscle tone that I've never had before (even when I weighed 110 pounds in high school). My clothes fit differently, and these days I get compliments from people who tell me how much thinner I look. I don't train for my looks, but it doesn't hurt to see improvements.
The scale may not have moved, but I see changes in how I look from blue to green belt.
5. It's cool to learn new techniques. Part of my requirements to get to green belt was to begin learning 15 new throws. I'm not an expert by any means, but it feels pretty badass to pull some of these off...and it looks cool too. Part of every belt promotion is getting thrown by everyone in class that night...check out these throws from my green belt promotion.
6. Knowing self-defense is a good thing. This is something I really want to focus in my next year of training. Knowing what to do and reacting in such a way that I would walk away safely if I ever needed to defend myself on the street.
We're really fortunate to have the opportunity to train directly under one of the organization's professors.
7. There's a crazy amount of knowledge to learn. The senior professor in our system is a tenth degree black belt and has been training since the late 1950s. Our sensei has more than 40 years martial arts experience and is a seventh degree black belt in our system. My husband already has more than a dozen years of training to draw from when he teaches. Can you imagine what I could learn if I stick with this?
I am linking this post up for Non-Scale Victories. If you want to play along, click the button below to link your post up.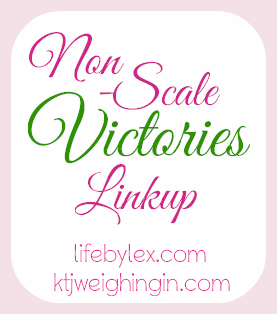 Never miss a blog post. Sign up for email subscription to get a daily email with everything that's happening at High-Heeled Love. Don't miss out! Sign up here.
Subscribe to High-Heeled Love by Email