It's been a long while since I've joined the Monthly Goals party, but since it's my birthday month, I look to this as a good time to set new goals.
Here's what I'd to accomplish this month:
1. Start a 5K running program and begin training for the Color Me Rad 5K I've signed up for in September.
2. Examine for my green belt in jujitsu.
3. Spend some time journalling at least once per week.
4. Sit down with the Mister and update our budget.
5. Bake homemade bread and pizza.
6. Try my hand at making dill refrigerator pickles.
7. Go through my closet and make a list of office wardrobe staples that need to be replaced.
The great thing? One of these is already checked off. I'll be sharing more next week.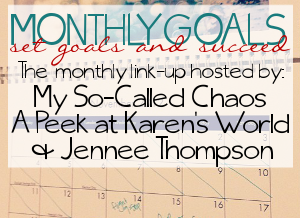 Want to play along? Click the button to link your Monthly Goals.
Never miss a blog post. Sign up for email subscription to get a daily email with everything that's happening at High-Heeled Love. Don't miss out! Sign up here.
Subscribe to High-Heeled Love by Email